Far More Convenient Than Self-Storage in SF.
We do the work. You never have to leave home.
We'll Store Nearly Anything
CityStash will pick up, store,  and redeliver just about anything:  our boxes and containers, boxes or containers you already own, furniture, sports equipment….nearly anything!  Let us do the work instead of lugging your own stuff down to an old-school self-storage unit.  If you are considering public storage in SOMA, Potrero Hill, The Mission, Mission Bay, or North Beach, give us a call first.
It's Cloud Storage For Your Stuff.TM

We love this city.  We live here, we work here.  We cheered Harbaugh and the Niners in the Superbowl and Panda and the Giants in the World Series (both times!).  And we are bringing a better way to store your stuff to San Francisco.
Looking for a storage facility in Nob Hill, Mission Bay, or Rincon Hill (or anywhere in the city) because you are between places for a few months, decluttering your home or office?  Talk to us first.
We have a better way to do storage.  We bring you boxes for free.  We then pick up the boxes, and anything else like your containers, furniture, or bikes, and store it in our climate controlled facility in Dogpatch.  Then we you need anything back (like that box of winter clothes), just place and order on line and we'll bring it right to you.  Everything is done via your online account.  You don't need to talk to anyone (unless you want to) or leave your home.
There is no easier was to stash your stuff.   We are redefining what it means to do storage in San Francisco!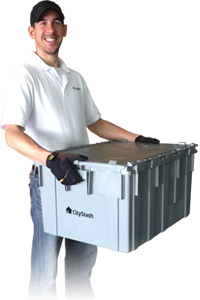 Experienced and Friendly Team
You'll love our guys, just like we do.  Friendly, sometimes funny (or so they say), and ready to help.
Still have questions?  
Check out our FAQs.  If that doesn't do it, the easiest and fastest way to reach us it either through the Chat app below, or via email.    But old-schoolers can reach us at the numbers below!