Far More Convenient Than Self-Storage in DC.
We do the work. You never have to leave home.
We'll Store Nearly Anything
CityStash Self Storage will pick up, store,  and redeliver just about anything:  our boxes and containers, boxes or containers you already own, furniture, sports equipment….nearly anything!  Let us do the work instead of lugging your own stuff down to an old-school self-storage unit.  If you are considering public storage in Dupont Circle, Foggy bottom, Georgetown, Logan Circle, or Chevy Chase, check out CityStash Self Storage.
It's Cloud Storage For Your Stuff.TM

Washington, DC is a great city.  Sure, it is the nation's capital, but for us it is the food, culture, and fast pace.  We love watching the Nats and Caps and root for RGIII to throw more and run less!  Our company was founded here and we're committed to delivering the best storage in Washington DC, bar none.
Are you trying to find storage in Adams Morgan, Columbia heights, Kalorama, Cleveland Park, Friendship Heights, Glover Park, Tenleytown, Petworth, Capitol Hill, Navy Yard, Arlington, Rosslyn, Courthouse, Clarendon, Virginia Square, Ballston, Shirlington, Bethesda, Alexandria, Silver Spring, Fairfax, or Falls Church?  (phew, that was a mouthful.  And, yes, I did need to list them all…)  We can help.  Call us before hauling your own stuff down to a DC storage unit.
We have a better way to do storage.  We bring you boxes for free.  We then pick up the boxes, and anything else like your containers, furniture, or bikes, and store it in our climate controlled facility in Alexandria.  Then we you need anything back (like that box of winter clothes), just place and order on line and we'll bring it right to you.  Everything is done via your online account.  You don't need to talk to anyone (unless you want to) or leave your home.
There is no easier way to stash your stuff.   We are changing how you store in Washington, DC!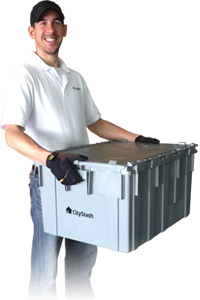 Experienced and Friendly Team
There's no suspense about who's going to show up at your door.  Meet our guys, and get to know them.  You'll think they're amazing, just like we do!
Still have questions?  
No problem.  See our FAQs and use the Chat app below.  Or Email us (we respond quickly) if you need more info.  If you prefer to talk old-school-style, feel free to call us at the numbers below!